Tuff – tuff – tuff…
MS Origo moves slowly thorugh the water, her engine puffing, almost as taking a pause to think and look around between each stroke. She is the world's smallest sea-going ship, at least the captain says so, a really tough fishing-vessel-turned-cruise-boat-lady, but she doesn't fight icebergs.
Icebergs are everywhere around us. Not the big towers one see in BBC series from Antarctica, sure, but big enough to win the fight of iceberg inertia vs small ship hull, if the ship isn't slow.
The clouds hang low around, somewhere to make dots of fog, wrapping the world around us into grey and white. Here and there it breaks up and reveals steep mountain sides plunging into the fjord, fiery dark as if they had been stroke with coal. In the distance, we see large glaciers plunging into the sea.
It's mid August, summer, but this place hasn't got the message.
Mordor without the volcano, where black riders could emerge any minute? Narnia when the evil witch ruled? At least it could have been a set for a James Bond movie intro. We are in Hornsund on the south west part of Svalbard, a place so in the middle of fucking nowhere that even very few tourist trips go there.
But geologists do. Not as often as we would like to, we mostly locked to our computer desks like other salary slaves, but when we go, we take the opportunity to boldly go where few others can afford.
Anchor down, Origo relaxes and the previously threatening icebergs come slowly floating to give her a gentle welcome hug. Origo is soon in a relationship with an iceberg larger than herself. We, the small humans are ambiguous to her new love. It could make us vulnerable to polar bears. Polar bears are excellent swimmers, and very curious, and we would love to have a visitor to look at – as long as it is safely on the lower side of the ship's hull. But now, a bear could use the iceberg as stairs to get on board.
It didn't take long time before we saw a bear. Well, the captain saw it. We had just landed onshore and got out of the orange survival suits, when he called from he brigde. "There's a bear approaching you from the East. It's hidden from your view, behind the bumpy moraine hills, but I can see it in my binoculars".
We hurried back into the RIBs, throwing rucksacks and survival suits and geologists in a big heap, and vroomed back to the safe haven on the ship. Probably, we violated all the HSE instructions that ever existed.
Well on board, cameras came out, playing "my lens is bigger than yours" (I won) to capture the cuddly white dot that now passed by our landing site. But even with a 450 mm telephoto lens (ok, a 300 mm on an 1,5 x cropping digital sensor, if you want to nitpick), the bear became a dirty-white-yellowish walking dot in the pictures. But it is there!
Geo-wise, Hornsund is within the fold'n'thrust belt of Svalbard, so sailing into the fjord from the west, we first passed through uplifted basement, then through a mess of folded'n'thrusted rocks of various age, before reaching the inner part. Here, around our little floating home, are still rocks of various age, but in fault blocks large enough to not drive geologists to tear their hair out…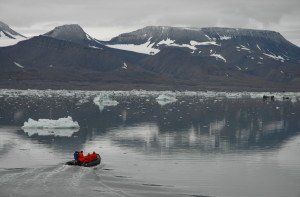 White Teddy slowly went away, and on the second attempt, we came onshore. Not on the geologically-almost-recent moraine, but on red coarse sand and conglomerate. Any suggestion on its age and palaeogeography, from the previous posts?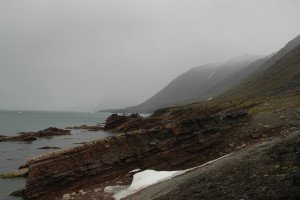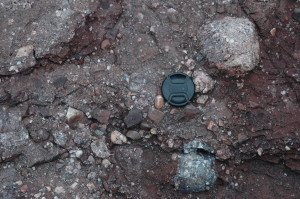 Yes, you are right: Carboniferous rift sediments, mainly continental. You didn't cheat, did you? During the Carboniferous, the Hornsund through (how creative name…) was a Billefjorden trough-lookalike rift basin, with basically the same succession of rift sediments, evaporite and carbonate.
Plus corals! Nice colonies of hexagonal corals show that once this place was a tropical sea. Quite a contrast to the suitable-for-evil-villain-lair cold and glaciers it is today.
The mountainside above us shows a nice section, a real photolog-for-lazy-geologists, through the Upper Paleozoic and into the Triassic. Above the rift sediments are dark limestone, our Permian friends. And above there, the thick, black Triassic shale, with the occasional sandstone body. Sprinkled with a thin veil of snow, the Triassic is almost like a big, sinfully dark chocolate cake with a delicate sugar icing…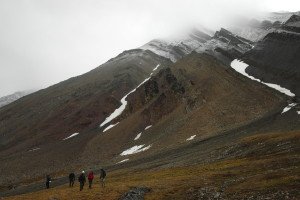 And a cake would fit nicely, because it is actually my birthday, August 18th (nice for you to know when I get rich and famous and subject of quiz questions). For present, the fellow tour mates give me a rock, a pretty, round coarse conglomerate boulder, to fit nicely into my shelf.
And, finally, we find evidence that other Big White Field Assistants were around as well… time to go back to our little ship! And have a birthday cake! :)